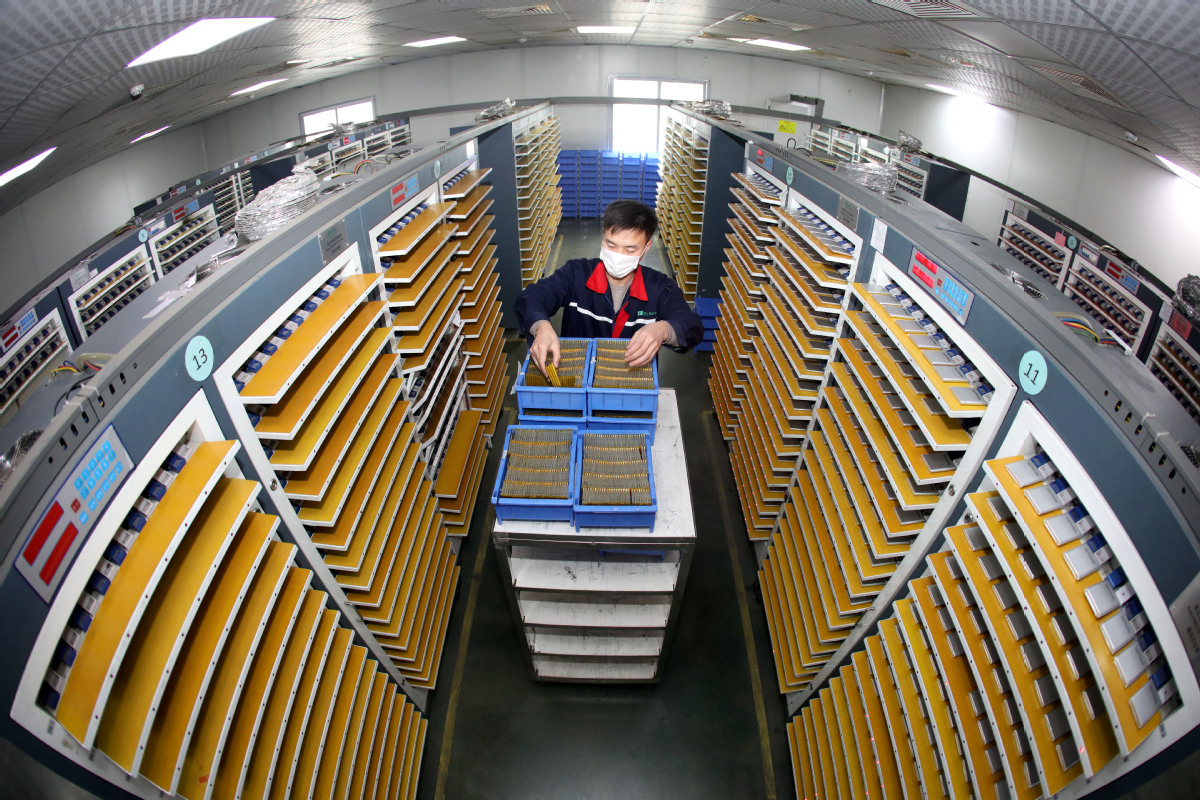 A worker classifies lithium batteries at a tech company in Huaibei, Anhui province, on Feb 27. [Photo/Xinhua]
Legislators, advisers hail Li's pledge to speed up building of modern industrial system

China should take further steps to remove institutional barriers that restrain the growth of its high-end manufacturing industry, improve the allocation of resources in line with market principles to fuel innovation and help strengthen global industrial chains, said national legislators and political advisers.
They commented after Premier Li Keqiang said China will stick to its innovation-driven development strategy and accelerate the building of a modern industrial system during the 14th Five-Year Plan (2021-25) period.
He made these pledges while delivering the Government Work Report on Friday at the fourth session of the 13th National People's Congress.
Liu Mingzhong, a member of the National Committee of the Chinese People's Political Consultative Conference, suggested the government build an innovation center of manufacturing technology for large castings and forgings during the country's 14th Five-Year Plan period.
Liu, who also is chairman of Heilongjiang province-based China First Heavy Industries, made the call as the country aims to accelerate measures to enhance its strategic scientific and technological capability with growing spending on innovation in the coming years.
To better ensure the operation of the global supply chain amid the disruption caused by the COVID-19 pandemic, it is urgent for China to carry out basic technological research, intermediate testing, engineering applications and industrial incubation in integrated innovative platforms in order to produce advanced industrial parts and materials, he said.
Yang Hua, a deputy to the NPC and president of Sinochem Group Co Ltd, a Beijing-headquartered oil and chemicals company, said it is also necessary to build a number of world-class industrial bases to manufacture high-end petrochemical products in accordance with the requirements of the dual-circulation development paradigm.
The current structural contradiction between overcapacity of low-end goods and a supply shortage of high-end products in China's petrochemical industry has yet to be fundamentally reversed, especially in the fields of high-end synthetic materials, functional materials, medical materials and high-end electronic chemicals, he said.
Pointing to a continued high dependence on imports in some fields, Yang warned that this "seriously affected the stability and safety of the industrial chain".
He suggested that these world-class industrial bases could be built in coastal regions such as the Hangzhou Bay and Daya Bay areas.
According to the draft outline for the 14th Five-Year Plan and through the year 2035, which has been submitted for review to the NPC, China will prioritize the development of the real economy, upgrade the industrial base, modernize industrial chains and keep the share of manufacturing in the economy basically stable.
Yang Shanlin, a deputy to the NPC and an academician at the Chinese Academy of Engineering, said the government should pay more attention to the manufacturing sector, deepen market reforms and improve education and training in science, digitalization and engineering, as well as build more platforms for cooperation in the global industrial chain.
With its trains starting operation last month in Monterrey, Mexico, Zhou Qinghe, a deputy to the NPC and president of CRRC Zhuzhou Locomotive Co Ltd in Hunan province, proposed that the government support the province in establishing a national-level industrial design and research institute in the field of rail transit in order to maintain China's leading position in the world's rail transportation market.
Many global companies have also expressed their willingness to enrich their research and development and production capabilities in China, together with their local partners, in order to accelerate their innovations.
High-quality growth
"China is rapidly moving itself to the upstream of the global supply chain. Its recent proposal is to achieve high-quality growth especially emphasized efficiency and sustainability," said Yin Zheng, executive vice-president of Schneider Electric SA, the French industrial conglomerate.
Yin's opinion was shared by Liu Jie, president for China at Carestream Health Inc, a United States-based medical equipment manufacturer. He said China has been enhancing its independent innovation ability and sharing more scientific and technological achievements with other countries.
"China is not only a sales market for our products, but also an important source of our innovation and supply chain, as well as an engine for future development," he said.
China should promote the next level of integration of the innovation chain and industrial chain, and speed up the improvement of systems and mechanisms that are conducive to the high-quality development of its manufacturing sector, said Miao Wei, deputy director of the Economic Affairs Committee of the CPPCC National Committee and a former minister of industry and information technology.