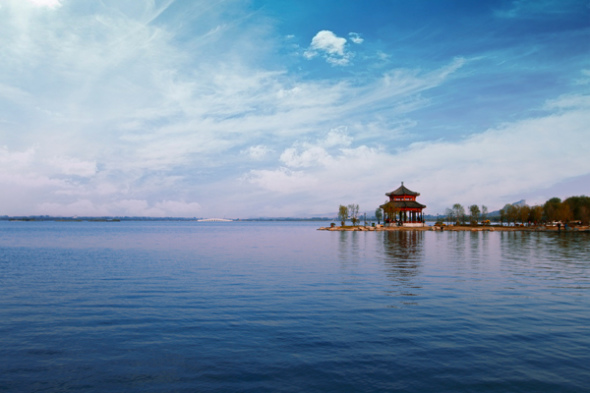 Nanhu Wetland Park, transformed from a 5-square-kilometer area of subsidence in Huaibei, Anhui province, is expected to be listed as a national scenic spot soon. (Photo/China Daily)
In the southern suburbs of Huaibei, a city in the eastern province of Anhui, there are large areas of water, which resemble natural lakes and serve as wetland parks.
However, these "lakes" are the result of subsidence. They are a reminder that the city, one of China's largest coal production bases, has struggled to eradicate the economic and environmental problems created by mining, which was once its dominant industry.
Having produced 1 billion metric tons of raw coal since it was established in 1960, Huaibei still has reserves of more than 4.6 billion tons.
The city's urban area is surrounded by mines in the east, south and west, while in the north the formerly barren Xiangshan Mountain has become a forestry park as a result of decades of tree-planting projects by the local government.
Mining kept the city on the fast track of growth, especially from 2003 to 2012, a period known as the "Golden Decade" of coal production, according to Huang Xiaowu, Party chief of Huaibei, which has a population of 2.18 million.
In 2013, when Huang was appointed as the city's mayor-he became Party chief last year-he had narrowly missed the coal industry's best times. Instead, he inherited a host of problems.
"In the middle of 2012, the domestic price of coal began to tumble. By end of last year, the price of raw coal had plummeted by almost two-thirds," he said.
Given that the coal industry accounted for half of Huaibei's annual tax revenue, the difficulties Huang encountered were numerous and tough.
Now, as a result of ongoing efforts the city is maintaining steady growth, but of a kind that's economically and environmentally sustainable.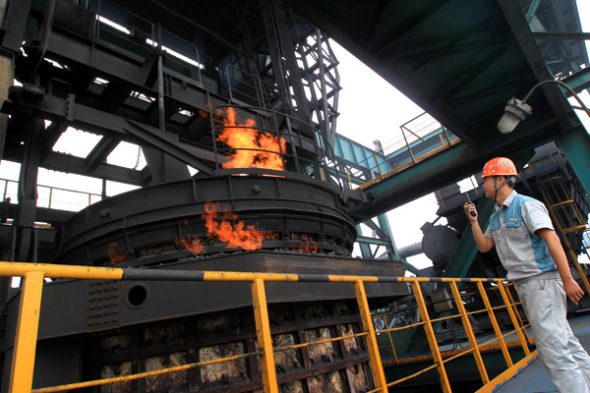 A worker checks coking facilities at a coal chemical industrial zone in Huaibei.Yue Jianwei/China Daily
Plentiful reserves
"The raw coal reserves in Huaibei are high quality and environmentally friendly because they contain less sulfur and phosphorus than those in other parts of the country," said Zhang Zhen, chief engineer at the Huaibei bureau of land and resources.
The city's reserves are composed of several types of coal, including thermal coal, coking coal and anthracite, which can be used to produce a wide range of chemical materials, according to Zhang, who started at the bureau in 1994.
For decades, Huaibei was the largest electricity generation base in East China, one of the country's most industrialized and developed areas, which helped to fuel the region's growth.
When the city was established nearly six decades ago, tens of thousands of people flocked to the area from across the country to work in the mines.
With annual raw coal output of around 50 million tons in recent years, Huaibei is now entering the twilight of its days as a coal mining center, Zhang said.
Since 2008, 69 cities have been listed as largely relying on natural resources that will be exhausted in the foreseeable future. Huaibei joined the list in 2009.
At its peak in around 2010, more than 100,000 people worked in the city's coal mines, and about 300,000 were employed in related industries. They and their families will be affected by the decline of coal mining, according to Long Baomin, deputy director of the Huaibei Municipal Development and Reform Commission.
As the country has tackled overcapacity in the coal sector, almost all the private mines in Huaibei have been closed, along with some small State-owned facilities.
Despite that, more than 70,000 people are still employed in the city's coal sector, the commission said.