When I was a freshman in 2015, the performance given by former art troupe members really amazed me.
Dozens of girls were performing on the stage. They were beautiful and elegant, making the performance totally different from what I had seen before.
"Wow!" was also the reaction of many other students who watched the performance, which was given outdoors for the first time.
Although I was a native of Fengyang county and knew the Fengyang flowerdrum dance more than other students, I had not been more interested in performing it than the others.
It was the performance that attracted me. I decided to join the troupe immediately afterward.
There were more than 100 students competing for about 20 positions.
After three rounds of interviews, which took one and a half months in total, I was in, making me very proud of myself.
The performance offered me totally fresh and inspiring knowledge of the old art.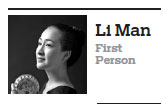 Since 2013, the performance has become a tradition of the university.
Former troupe members told me they were also mostly attracted by the performance.
Best known for agricultural majors, Anhui Science and Technology University does not have any art majors. So, all the troupe members started from very basic training, which has been really painstaking.
Majoring in business administration, I am now head of the students' flower-drum dance art troupe, but I have never thought about becoming a professional actress after my graduation.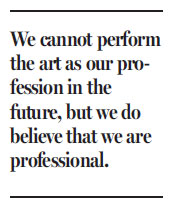 I have barely seen any other young people who can rely on performing the dance as their career. The art has great potential, but the market is not big enough.
Students keep joining the troupe and keep leaving as they graduate. I think such a situation is advantageous, as new members keep bringing new vitality to the troupe.
We cannot perform the art as our profession in the future, but we do believe that we are professional.
Li Man speaks to Zhu Lixin
(China Daily 10/06/2017 page6)