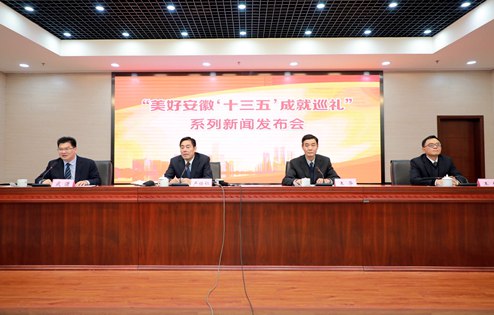 Rural residents' per capita disposable income rose from 10,821 yuan ($1,643.7) in 2015 to 15,416 yuan in 2019, bringing the province to the 12th place in the country from the 18th, the local agricultural regulator said at a press conference on Monday.

The province has made remarkable progress in agricultural and rural modernization, gotten off to a good start to promote rural vitalization, deepened rural reforms, ensured social harmony and stability and enhanced rural residents' sense of fulfillment and happiness since the implementation of the 13th Five-Year Plan (2016-20), said Lu Shiren, head of the Department of Agriculture and Rural Affairs of Anhui Province.
The province ranked 4th in China last year in terms of annual grain output, up from the 6th place in 2015. It is projected to harvest more than 40 million tonnes of grain this year.
The province is home to 62 national leading enterprises in industrialized operations of agriculture, ranking 10th in the country. Four out of them register more than 10 billion yuan in annual sales.
New industries such as e-commerce and rural tourism have thrived over the past few years. In 2019 alone, online sales of agricultural products stood at 53.6 billion yuan, up 31.7 percent year on year.
The province has also made achievements in green development of agriculture. It has cut down on chemical fertilizers and pesticides for six consecutive years and taken steps in preparation for a fishing ban on the Yangtze River.
The per capita disposable income of rural residents reached 12,523 yuan in the first three quarters this year, up 6.8 percent from the same period a year ago. The growth was one percentage point higher than the national average.